Many thanks to blogger extraordinaire Jacqueline at A Cooking Pot and Twisted Tales for hosting My Thinking Corner.  If you've never visited her blog, you are missing a wonderful treat!
Earlier this week, two things got me thinking.  The first was my 1,000 Likes badge from WordPress: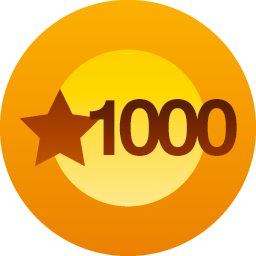 This was my reaction:
The second was this post on my timeline in Facebook:
Never underestimate the power of your encouragement.  Wow!  This is why those likes mean so much.  One simple click of a button is a monumental act of support for me as an aspiring writer.  You were gracious enough to take time out of your day, read and consider my thoughts and musings.  What a gift!  Maybe, just maybe, I'll keep going.  Perhaps, I will try that again.
And it's not just writers!  Aspiring poets, actors/actress, models, doctors, teachers, scientists, accountants, chefs etc.  all need to be encouraged from time to time.  A kind word or a simple gesture goes a long way.  You have the power!
~kay